Series 54
Twin Screw Bulk Packaging System
• Ability to fill open mouth bags, drums or boxes with minimal changeover
• Rapidly fill containers ranging from 5 to 350 lb. with two high speed augers
• Direct mount load cell design insures accurate and repeatable weights
• Two-stage twin auger feed system with variable speed drive
• Fully digital weighing system with a host of standard process and weight control functions
• Fully programmable control system with optional product memory
• Independent agitator drive optimizes product feed regardless of screw speed
• Air purged shaft seals prevent product leakage with no replacement parts
• Available in all-stainless steel, and 3A Dairy construction
• Wide range of bag, box and drum filling heads with excellent dust control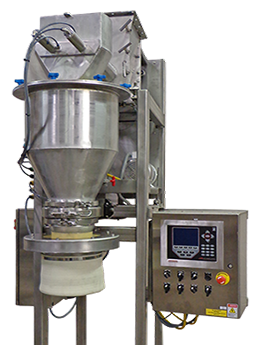 Technical Specifications
Product Applications: Powdered and granular material ranging from fine powders up to1/4" in diameter.
Typical Bagging Rates: Between 3 and 9 containers (50 lb.) per minute are possible depending on product and operator dexterity.
Typical Accuracy: The Series 54 is factory programmed in .1 lb. or .02 lb. increments. With auger speeds and scale system correctly positioned, accuracies of +/- .1 to .2 of a lb. are typical.
Electrical Requirements: 230 or 460 volt, 3-phase 60 cycles at 9/4.5 amps.
Compressed Air Requirements: Operating pressure is 80 PSI. Service pressure should be at least 10 PSI above operating pressure to insure consistent operation of controls. Requires approximately .3 CFM per bag.
Overall Installed Dimensions: Approximately 48" X 61" X 108". Some optional components may extend beyond the dimensions shown.
Shipping Weight: Approximately 1800 lb.
We offer a full line of equipment. You might not see something you need on our website, but please contact us about it. We have products that do not show on our website, plus we can help design and build any custom piece of equipment you need.


Please, feel free to contact us with any questions about our products and services.
Copyright © 2014 H&H Design and Manufacturing, LLC | r2022MAR04